We create clean, attractive websites that work at generating new business for you. Making your online brand and business easier and work harder for you.
​
Is your website working as well as it could for your business? Does it respond to work well on mobile devices? Can you easily make updates yourself? From a simple start up website through to a fully bespoke project, we can help you.
mineheadtowncouncil.co.uk
Minehead Town Council approached us to revamp their existing website. it needed to evolve in line with changing user experience and a restructure of the information contained. We create a website with a real focus on user experience, blended with images to showcase the town.
The build includes a backend CMS for the staff to make quick and easy updates on the website, with support on hand when required.
Richard got in touch with us after a referral from another client based in Exeter. His web guy had retired a few years back and the website was looking tired and technically outdated. Richard wanted a fresh and clean looking website that showcased his therapy business.
He was open to ideas in us choosing the best look and feel for the new website and was delighted with the very first draft. It was important to Richard that his new website catered for mobile and tablet users. He also wanted to start writing a blog and have access that he could this himself.
It was an absolute pleasure to work with the team at Reds Hair Salon. Taunton has a large number of hair salons and so part of the challenge was the capture life at the salon and highlight their USPs.
We worked with a videographer and photographer to introduce the team and the salon experience. Salon Director Natalie wanted to integrate some of their salon partners and promote products and services via the website.
We were introduced to Spike from Trust Events during the first Covid-19 lockdown. He took part in our Meet the Business video series and it was great to get to know him. His industry was hit so hard by the pandemic. While normal work was put on hold Spike was keen to work with us to revamp his website ready for when the events industry bounced back.
We rebuilt the whole website, choosing images and videos that helped to tell their story. 
Auto Paint Repairs have been repairing cars since 2001 and have a workshop in Taunton. In fact, they had repaired a dent in our car. We got talking and Richard asked us to give him old and tired website a new lick of paint. We stripped it down, fixed what was under the hood and gave it a new look.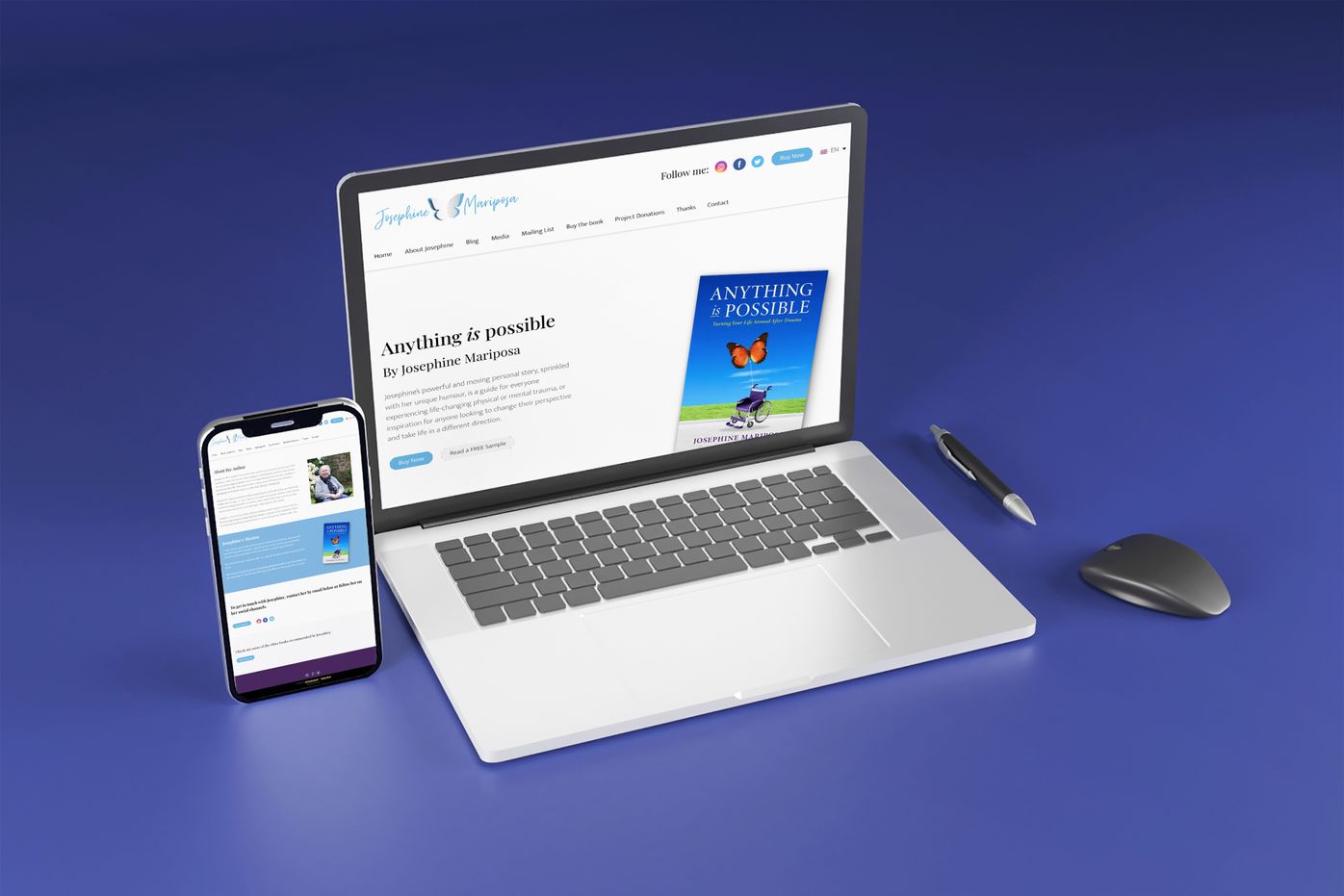 We were approached by Josephine to help with a very special project as she wrote her first book. Her powerful and moving personal story, sprinkled with her unique humour, is a guide for everyone experiencing life-changing physical or mental trauma or inspiration for anyone looking to change their perspective and take life in a different direction. 
This was a collaborative project working with Jenna Myles from Shake Comms who looked after the copywriting and PR side of the project.
Jane is an abstract artist based in Taunton. She contacted us to create a new website that would really make her art stand out. For Jane art continues to be a fascinating, rewarding, and often challenging journey.
We looked at a number of artist websites to compare styles. A clean and simple was adopted using white space, which would help for her art to shine.
Jane was a pleasure to work with and we enjoyed chatting about our appreciation of all things art and creative process with her.
Fiona from Keevil Accounts is passionate about providing first-class bookkeeping and cash flow management. We first met her back in 2013 after a referral from another client we had built a website for.
A lot can happen in 8 years when it comes to websites so we were keen to update Fiona's website. We first introduced her to Taunton based photographer Aisling Magill who visited Fiona for a photoshoot. It really helped to capture her personality and make the website much more personal.